Simplify Meal Planning for Busy Parents
Get Personalized, Hassle-Free & Enjoyable Kids Meals: Say Goodbye to Research Time and Complex Meal Planning
What you'll get with ChefPassport Escapes
Unique Recipes for Your Family
Experience the next level of cooking technology where Artificial Intelligence meets Top Chefs to create and deliver to you unique recipes adapted to your family lifestyle, enabling a cooking experience that cannot be found anywhere else.
Kids Meet Global Top Chefs
The ultimate culinary experience where technology meets human expertise! With ChefPassport Escapes, not only will you gain access to a treasure trove of unique recipes for your kids, but you'll also have the opportunity to connect with our Chefs from all over the world for a fun family activity.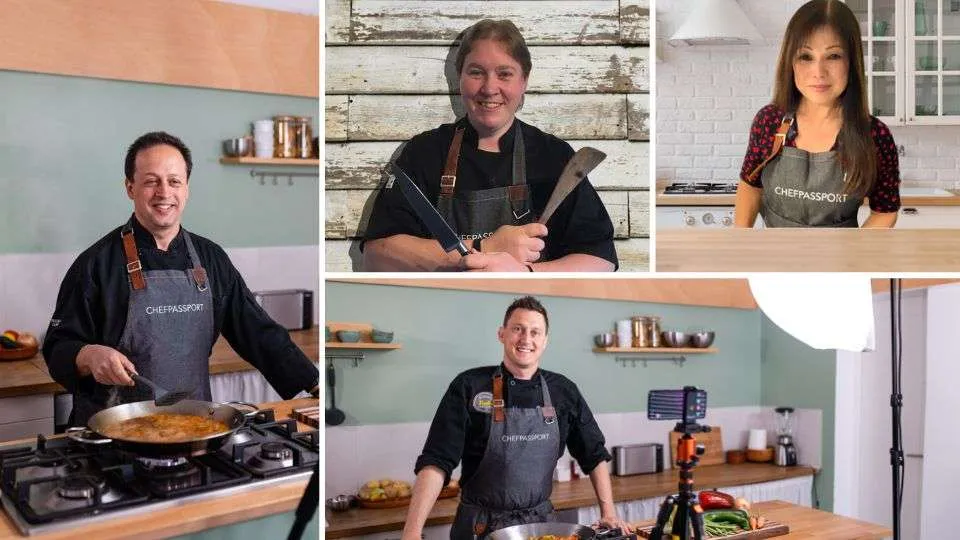 No More Doubts on What to Cook for Your Little Ones
Say goodbye to recipe frustration and embrace personalized culinary bliss! Whether you're lacking ideas on what to cook for dinner for your kids, you are looking to adopt a specific dietary regime, or battling allergies, or seeking to optimize meal preparation, ChefPassport Escapes has you covered. No more wasting time sifting through irrelevant recipes
Create Your Lifestyle Profile
Choose your food lifestyle: Vegan or Meat Lover? Let us know your family's dietary needs and nutrition goals. We have you covered.
Our AI Technology and our Chefs create new recipes inspired by global flavours 24/7. You will receive your tailored recipe book every week.
Have questions on a recipe? Want to learn a specific dish? Receive support from our Chefs during one one of our virtual workshops.
Trial Escapes
A Taste of Delight
1 Recipe/week delivered to your Inbox

Limited recipe personalization
Premium Escapes
AI-Crafted Culinary Adventures

Launch Price Valid until 31/8/2023
3 AI-personalized recipes each week

Fully Dedicated Customer Support

Discounts on Online Culinary Workshops
Gourmet Escapes
The Human Chef Experience​
3 handpicked and personalized recipes per week, crafted by our top chef instructors

Fully Dedicated Customer Support

Discounts on Online Culinary Workshops

Access to Your Recipe History

VIP Invitation to Monthly Masterclasses

Early Access to New Products & Features

Priority Customer Support

Gourmet Ingredient Selection
Once you subscribe, the price will never go up! Lock in today's low price for life
Unleash unbeatable deals on ingredients, kitchenware, accessories, and cooking experiences from our partners. Upgrade your culinary game now!
If ChefPassport Escapes is not a good fit for you, then we'll happily refund you.
Contains dairy (mozzarella cheese). Can be made gluten-free if using gluten-free breadcrumbs.
Cheesy Veggie-Stuffed Mushrooms
Succulent portobello mushrooms are generously stuffed with a mouthwatering blend of fresh vegetables, cheese, and a burst of herbs and spices. These delightful appetizers are baked to perfection, offering a harmonious combination of flavors and textures that will please even the pickiest eaters.
Can be made gluten-free if using gluten-free breadcrumbs.
Crispy Baked Zucchini Fries
Get ready to tantalize your taste buds with these irresistible zucchini fries! Sliced zucchini sticks are coated in a crispy, seasoned breadcrumb mixture and baked until golden brown. These healthier alternatives to traditional fries are not only delicious but also packed with vitamins and fiber, making them a great choice for kids' snacks or side dishes.
Contains dairy (cheese). Can be made gluten-free if using gluten-free pasta shells.
Creamy Spinach and Artichoke Stuffed Shells
Dive into a plate of these luscious stuffed shells that are sure to make your little ones ask for seconds. Jumbo pasta shells are generously filled with a creamy blend of spinach, tender artichoke hearts, and a velvety cheese mixture. Baked to perfection and topped with a savory tomato sauce, these stuffed shells are a perfect balance of flavors and textures.
Can be made gluten-free if using gluten-free breadcrumbs.
Crunchy Baked Chicken Tenders
Forget the deep fryer and try these oven-baked chicken tenders that are both crunchy and flavorful. Tender chicken strips are coated with a crispy breadcrumb mixture, seasoned to perfection with a medley of herbs and spices. Baked until golden brown, these healthier chicken tenders will be a hit with kids and adults alike, whether served as a main course or as a party snack.
Can be made gluten-free if using gluten-free breadcrumbs or quinoa flakes.
Veggie-Packed Quinoa Burgers
Give traditional burgers a nutritious twist with these hearty quinoa burgers packed with colorful vegetables. Cooked quinoa is mixed with a vibrant assortment of grated carrots, diced bell peppers, and flavorful spices, forming patties that are pan-seared until golden. These vegetarian-friendly burgers are not only delicious but also a great source of protein, fiber, and essential nutrients.
Can be made gluten-free if using gluten-free pizza crusts. Contains dairy (mozzarella cheese).
Get creative in the kitchen with these delightful mini vegetable pizzas that your kids will adore. Mini pizza crusts are topped with a rich tomato sauce, a colorful medley of fresh vegetables like cherry tomatoes, bell peppers, and zucchini, and a generous sprinkling of melted mozzarella cheese. Baked until golden and bubbly, these bite-sized pizzas make a perfect meal or snack option for little ones.
Experience the incredible expertise of over 50 talented Chefs hailing from 20 diverse countries across the globe, poised to craft extraordinary recipes and guide you on your culinary voyage.
Chef Kit Smyth is a Professional chef formally trained in Australia with a focus on European cuisine. Chef Kit relocated to the United Kingdom where she is retired as an executive chef and shifted gears to food writing. With a focus on European cuisine, Chef Kit loves uncovering the authentic flavors of different dishes by exploring their history. She offers hands-on cooking classes and invites you to join her on a culinary adventure, whether it's exploring Australia's Gold Coast, the Mediterranean Sea, or any European country of your choice. Chef Kit is here to elevate your cooking experience and take you on a flavorful journey.
Chef Josh specializes in paella, tapas, Spanish and local Catalan cooking and gives cooking workshops in many different styles of cuisines from around the world including, Thailand, The Philippines, Morocco, Mexico, Italy, and Japan. He enjoys creating memories and connecting teams via the medium of food. He believes that food unites people, and simply loves sharing the flavors of Spain with foodies around the world. Chef Josh is a ChefPassport Top Chef Instructor currently living and teaching in Barcelona, Spain.
Chef Emily grew up on the New England coast of the United States with a love of seafood and freshly picked apples. Throughout her career, she has embraced every culinary adventure, exploring food from different cultures and regions to develop a well rounded and exciting repertoire. After working in commercial and restaurant kitchens, she dedicated five years to developing a non-profit program in Pittsburgh that helps families and children develop a healthy relationship with food and eventually led her to become a culinary instructor. She is patient, kind and enthusiastic, exactly the type of person you want by your side as you try something new.
As an executive assistant at Amazon, my days are packed with meetings and deadlines, leaving me with little time to plan meals. ChefPassport Escapes has truly transformed my cooking experience. The personalized newsletters are a lifesaver, providing me with easy-to-follow recipes and inspiring ideas tailored to my busy schedule. Thanks to ChefPassport, I now enjoy delicious, restaurant-quality meals at home without the stress. It's like having a personal chef in my pocket! 
Executive Assistant at Amazon, California
As a busy parent and sales manager in a Tech industry, finding time to prepare delicious meals for my family is always a challenge. That's where ChefPassport Escapes has been a game-changer. The personalized newsletters provide me with an array of mouthwatering recipes that perfectly suit our busy European lifestyle. From comforting Italian pasta dishes to hearty German favorites, ChefPassport Escapes has transformed our family dinners. 
Busy Parent and Sales Manager at a Tech Company, Germany
ChefPassport's Kids Meals has been a lifesaver for our family. As a busy parent, I struggled to find nutritious and appealing meals for my kids. But ChefPassport's creative and kid-friendly recipes have solved that problem. Now, mealtime is exciting and enjoyable for everyone!
Matteo Ressa
Founder and CEO ChefPassport
ChefPassport is a pioneering Cook Tech company that was established in 2018 with a visionary mission to leverage technology in connecting individuals and businesses with exceptional chefs from around the globe. Through an immersive array of virtual, hybrid, and in-person cooking workshops, classes, and courses, as well as a captivating selection of unique digital products centered around the culinary realm, ChefPassport unveils a world of global flavors that fosters cultural appreciation and enhances culinary knowledge. With an ever-expanding network of over 50 remarkably talented chefs representing 20 diverse countries, ChefPassport is dedicated to revolutionizing the way people engage, learn, and indulge in the remarkable art of cooking.
Frequently Asked Questions
ChefPassport Escapes is a recipe subscription service that delivers weekly digital recipe books straight to your inbox. Simply subscribe, setup your preferences, like dietary lifestyle and allergens, and you'll receive a personalized cookbook every Friday straight to your mailbox. 
As a ChefPassport Escapes subscriber, you will receive new recipes every week. Our team of expert chefs continuously curates and develops exciting dishes to keep your culinary journey fresh and inspiring.
Absolutely! With ChefPassport Escapes, you can personalize your recipe selection based on your dietary preferences and restrictions. Whether you're vegetarian, vegan, gluten-free, or have other specific requirements, our recipes can be tailored to suit your needs.
Yes, all the recipes in ChefPassport Escapes are exclusive and crafted by our team of expert chefs. You won't find these recipes anywhere else, making each dish a unique and delightful experience.
ChefPassport Escapes is currently in beta, as we work diligently to refine and enhance our services. While some features may still be under development, we are committed to continuously improving and expanding the offerings. As an early supporter, your patience and belief in our vision will be rewarded with a special price lock for life at 2.99€ per month. This means that as we grow and introduce new features, your subscription price will remain unchanged, allowing you to enjoy the benefits of ChefPassport Escapes at an exceptional value. Thank you for being part of our journey in these early days!
As a ChefPassport Escapes subscriber, you have access to both the current week's recipes and an archive of previous recipe collections. This allows you to explore a wide variety of cuisines and flavors at your convenience.
Absolutely! Our platform allows you to interact with our expert chefs through live chat. You can ask questions, seek advice, and gain valuable insights to enhance your cooking skills and knowledge.
Yes, we offer virtual cooking classes and workshops conducted by top chefs. Join these interactive sessions to learn new techniques, discover culinary secrets, and further enhance your cooking abilities.
Certainly! Our virtual cooking classes and workshops cater to participants of all skill levels, including beginners. Our chefs will guide you step-by-step, ensuring you gain confidence and master new culinary techniques.
Along with receiving the weekly recipe books, you will also have access to the recipe archives. This allows you to revisit previous collections, try different recipes, and explore a wide range of flavors.
Yes, as a valued subscriber, you will have access to exclusive discounts and special offers from our partner products and services. This provides additional value and benefits to enhance your culinary journey.
During our launch phase, we are offering a special price of 2.99€/month to early subscribers. By subscribing now, you lock in this price for life, regardless of any future price increases. You can cancel or modify your subscription at any time.
Absolutely! ChefPassport Escapes takes into consideration various dietary restrictions and allergies. Our recipes can be customized to accommodate your specific needs, ensuring you can enjoy flavorful meals while staying within your dietary boundaries.
ChefPassport Escapes can be accessed through any internet-connected device, including computers, smartphones, and tablets. There is no additional software or app required. Simply log in to your account from your preferred device and start exploring the world of culinary delights.
After subscribing to ChefPassport Escapes, you will receive a welcome email with instructions on how to set up your account. Simply follow the provided link, create your unique login credentials, and you'll gain access to our exclusive recipe collections, live chat, and other exciting features. Get ready to embark on your culinary adventure!
While we don't have a dedicated community or forum at the moment, we encourage you to engage with us and fellow subscribers through our live chat feature. This allows you to connect, share experiences, and exchange culinary tips and ideas.